Having a defibrillator (defib) at hand in an emergency can save someone's life, should they have a cardiac arrest.
Defibrillators (also known as AEDs – Automatic External Defibrillators) are medical devices are the only devices that can help when someone has a cardiac arrest, and, as such, are vital in emergency situations.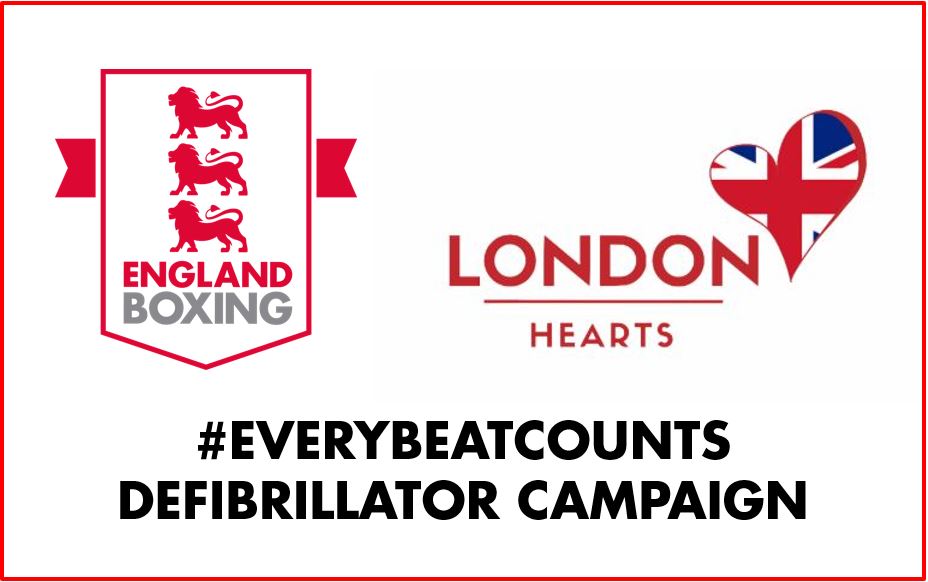 Events captured by the media during the Summer 2021 underlined the fact that cardiac arrest can happen to anyone, anytime, anywhere, with high-profile Danish footballer Christian Eriksen having his life saved by a defib after collapsing during a game.
Former GB boxer Cheavon Clarke has also explained how he was indebted to the emergency equipment after suffering complications with his appendix. Read his story by clicking here.
Defib facts
With the effective and speedy delivery of a defibrillator, survival can be raised from 6% to 74%.
Every minute without CPR and defibrillation reduces a victim's survival rate by 7 to 10 per cent.
Without immediate treatment, 90 to 95 per cent of cardiac arrests prove fatal
The number of out of hospital Cardiac Arrests each year previously stood at 30,000, but this figure has risen drastically as a result of the Covid-19 Pandemic.
Access to a defib mandatory for EB clubs from June 2022
England Boxing has previously announced that from 1st June 2022 it will be mandatory for all affiliated boxing clubs to have a dual functioning Defibrillator on site, or within five minutes there and back (walking distance).
As a result, the organisation is now working in partnership with London Hearts to offer all affiliated clubs financial assistance to obtain this necessary life-saving equipment at a lower cost (see below).
Where is your nearest defib?
You may not need to buy a defibrillator if one is nearby. As outlined in the England Boxing Rule Book, should clubs have a defibrillator with a five minute there and back (walking) distance, this will be sufficient to allow affiliation from 1st June 2022.
To assist in locating these life saving pieces of equipment, England Boxing suggests clubs download the Good Sam App or use the Defibfinder page to enable you to locate the nearest defibrillator.
Please note that all clubs will be required to sign a disclaimer at the point of registration regarding the defibrillator they will be accessing.
Where to site a new defib
If you are buying a new defibrillator, you will ned to consider whether to store it internally or externally.
If a defibrillator is to be stored outside your club (for community benefit) then it must be housed in an external heated cabinet (which requires a power supply).
If kept indoors, then you do not require any other equipment as long as you have a safe dry place to store the defibrillator.
Some clubs choose to locate their indoor defibrillator on a simple wall hanger, whilst others place it inside an internal lockable cabinet that has an alarm on the door.
Costs to buy a defib – and grants to help
London Hearts has £300 grants to assign to each England Boxing Club thanks to an ongoing partnership with England Boxing.
To see if your club may be eligible for further grants, please email jo@londonhearts.org who will advise based on the location of your venue.
As a result of this funding, the cost to a club for a defibrillator is reduced to £745. As VAT is not applicable, a further 20% saving is available to those clubs not VAT registered.
How to contact London Hearts
Please feel free to contact London Hearts directly to discuss your requirements, or you can complete a short website online application to receive a quote, along with all of the general information regarding the advanced dual functioning defibrillator they supply.
You can also telephone 0207 0432493.
How to raise additional funding
England Boxing put together a guide for boxing clubs that can help them raise funds to support the purchase of a club defibrillator. The guide covers current funding grants, fundraising guide and ideas, sponsorship guide and templates.
To access the guide, click here.
#EveryBeatCounts stories
Below are some of the clubs and organisations who have already got involved in the getting a defib, recognising that #EveryBeatCounts.